Welcome to the Shirton Family Website
The Shirton Family website provides information about the Shirton Family who came to Upper Canada in the mid 1800s and settled in Attercliffe Station in Haldimand County. Here you will find information on the history of the Shirton Family, current events, and photographs. Please note that only information about deceased individuals are displayed in the family tree.
Shirton Family News
Amelia Barber; Queen Victoria's Half-Sister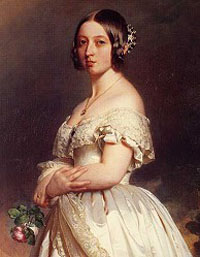 There is one member of the Shirton Family who has connections to the British Royal Family; it is Amelia Barber. Amelia was born about 1803 in Kensington Palace in London, England. Her parents were His Royal Highness Prince Edward Augustus, Duke of Kent and Strathearn and his mistress of many years; Alphonsine Therese Bernadine Julie de Montgenet de St. Laurent, Baronne de Fortisson. Prince Edward and Julie de St. Laurent were together for almost 28 years and it has been reported that they had several children together, although they were never married. In order to provide a legitimate heir to the Thrown, Prince Edward married Princess Victoria of Saxe-Coburg-Saaifield on May 29, 1818. Their only child, Princess Alexandrina Victoria of Kent was born on May 24, 1819. She later became Queen Victoria.
In those days, illegitimate children within the Royal Family were sent off to be raised by other families. Amelia was sent to the Barber residence and was raised as their own, with money being provided by the Duke of Kent. Amelia grew up in Attertcliffe, England and married Dr. John Kirk of Nether Hallam, Ecclesall Bierlow, York, England.
In 1833, John, Amelia and their daughter Hannah boarded the ship "St. George" and sailed to New York. They finally settled in Dunnville, Haldimand County in Canada West. When Queen Victoria came to the Throne, she sent money to her half-sister in Canada. The money came every month in a little leather pouch. This money continued up until Queen Victoria died and her son King Edward came to the Throne. He then sent them word that their descendants would not be receiving any more money from the Royal Family.
Welcome Kenneth Andrew Shirton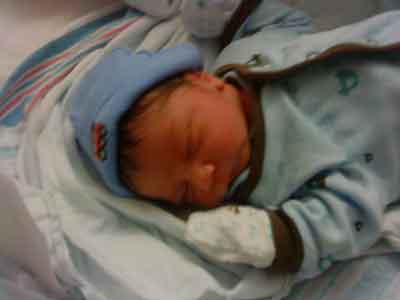 Andy and Viviana Shirton are pleased to announce the arrival of their new son, Kenneth Andrew Shirton. Kenneth weighed in at 7 lbs 7 oz when he was born on Thursday, November 1, 2012 at 11:19am at the Trillium Health Centre in Mississauga, Ontario, Canada. Family and baby are doing well. Congratulations!
Ken Shirton Passes Away at Age 82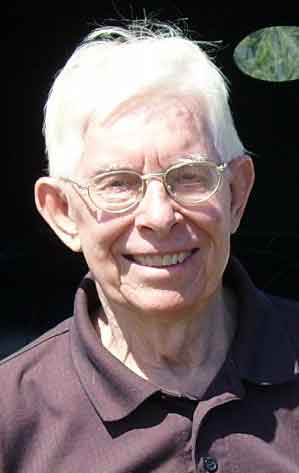 Kenneth Baker Shirton passed away in the morning hours of Sunday, September 2, 2012 at St. Joseph's Hospital in Hamilton, Ontario, Canada after living with a pulmonary condition for several years. Ken was 82 years of age. Ken was born on February 11, 1930 in Smithville, Ontario but spent most of his adult years in Hamilton were he was a longtime employee of Hamilton Civic Hospitals. He was the eldest son of Charles Andrew Shirton and Ethel Baker. He is predeceased by his younger brother, Charles Andrew Shirton Jr. who passed away in 1932. Ken, a long time enthusiast of both Curling and Golf, will be sadly missed by his younger brothers Ray of Etobicoke and George of Burlington, nephews Jeff, Doug and Andy Shirton and long time friend Joanie. Cremation has taken place and at Ken's request, there will be no funeral. A private family service will be held at a later date.
Victoria Elizabeth Shafley Passes Away in Dunnville
At the Haldimand War Memorial Hospital, Dunnville, on Monday, July 16, 2012, in her 79th year. Pre-deceased by her beloved husband Reg Shafley (2006). Loving mother of Doug and Gail, Lori and Bob Vollick. Loving grandma of Tara Shafley, Scott Vollick (Katherine), Aimee Goodfellow (Jeff) and Danny Vollick (Natalie). Dear sister of Bill (Eunice) Mageran, Lawrence (Gail) Mageran and sister-in-law of Kay (Wayne) Brown, Anne Mageran and Elva Mageran. Predeceased by her parents Leon and Dora Mageran and brothers Alex, Carl and George. Family will receive friends at the BALLARD MINOR FUNERAL HOME, 315 Broad St. E., Dunnville, on Wednesday, July 18, 2012 from 2-4 and 7-9 p.m. Funeral service will be held at St. Paul's Anglican Church, Dunnville, on Thursday, July 19, 2012, at 1 p.m. Interment Woodlawn Cemetery. If so desired, memorial donations to Dunnville Hospital & Healthcare Foundation (CT Fund) or charity of choice would be appreciated. On-Line condolences at: www.ballardminorfh.ca
Doris Wieloszynski Becomes Local Celebrity
Doris Wieloszynski and friend Dick Lacey became local celebrities as they appeared in the Niagara Gazette while watching the Buffalo Philharmonic Orchestra play on June 26, 2012 on Goat Island in Niagara Falls, New York. This free concert featured music from motion pictures such as "Pirates of the Caribbean," "Harry Potter and the Sorcerer's Stone" and "Raiders of the Lost Ark" and played to throngs of concert-goers as they sat in their lawn chairs under the summer sun on Tuesday night.
Doris Wieloszynski is the granddaughter of Sarah Ann Shirton and Malcolm Travis.
Photo courtesy of the Niagara Gazette.
May Sheldrake Passes Away at Age 94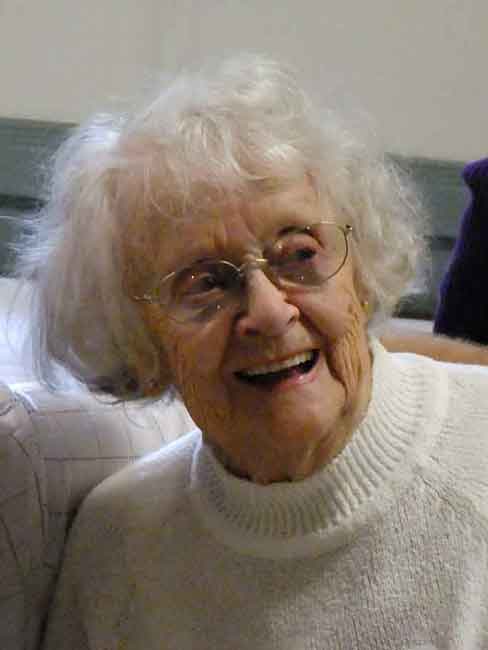 May Suddenly at West Lincoln Memorial Hospital in Grimsby on Sunday, June 10, 2012, Martha May Sheldrake (nee Shirton) of Smithville passed away in her 95th year. Beloved wife of the late John (Jack) Walter Sheldrick. Loving mother of Jim and Joyce Sheldrake, Lois and Paul Chapman, and Linda Kobylt. Cherished grandmother of 13 grandchildren, 21 great- grandchildren and 3 great-great- grandchildren. Predeceased by sons Stanley and Irvine. May was the organist and choir leader at Smithville Presbyterian Church for 30 years. Visitation will be held on Monday, June 18 beginning at 10 a.m. at Merritt Funeral Home, 287 Station Street, Smithville, where the memorial service will follow at 12:00 Noon. Inturnment at Smithville United Church Cemetery will precede the service. If desired, memorial contributions to the Heart & Stroke Foundation or Canadian Cancer Society would be appreciated and can be made through the funeral home, (905) 957-7031 or merritt-fh.com
Shirton Family Reunion: A Great Success
Over 78 members of the Shirton Family came together at the Royal Canadian Legion in Smithville on Saturday, September 24, 2011 for the Shirton Family Reunion. This was the first time the Shirton Family have had a reunion in over fifty years. You can find more information about the 2011 Shirton Family reunion on the reunion page of the website.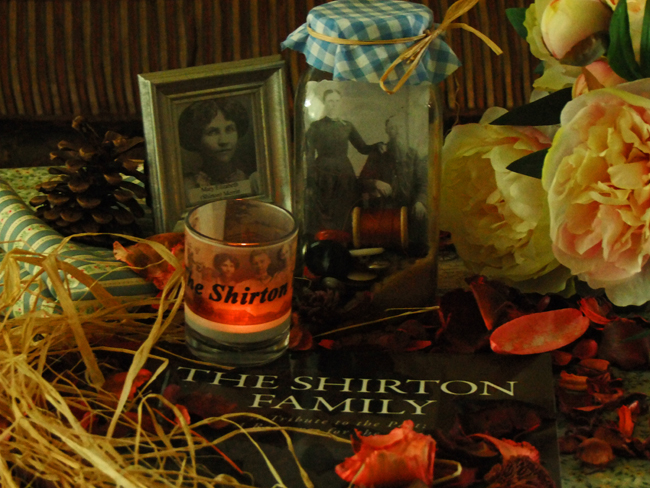 Shirton Family History Book Unveiled at Shirton Family Reunion
Ray Norwood Shirton (son of Charles Andrew and Ethel (Baker) Shirton) has written a book about the Shirton Family. He has been writing this book for many many years and it has finally been completed. We will unveil the book at the reunion and will be presenting copies to representatives from the Niagara Genealogy Society, the Halidimand Genealogy Society and the West Lincoln Archives. The presentations will take place during the formal portion of the reunion which starts at 3pm. A copy of the Shirton Family History book will also be sent to the Ontario Genealogy Society Archives.
Reunion Formal Program Confirmed
The Shirton Family Reunion will be a great event where participants will be able to meet other relatives and learn about the family. There will also be a formal component to the reunion. The formal portion of the reunion will begin at 3pm and will include:
- Welcome - Greetings from the Mayor of the Township of West Lincoln - Letter of Greetings and Congratulations - The Shirton Family Book Presentations - Introduction of Family Members -The Shirton Family Website -Family Tribute - Door Prizes - Family Group Photograph
Activities Planned for Shirton Family Reunion
With less than a month to go, the planning committee has been working hard to plan a variety of activities for the reunion. Activities will include:
- Family Wall Chart: There is a wall chart which lists all the descendents of Thomas and Ann Hannah (Kirk) Shirton. Ann moved to Canada in 1851 with her children after her husband died. The chart is 34 feet long, which speaks to the number of Shirton descendents now living. There will be posters describing how one person is related to another and participants will be able to fill in sheets correcting any errors or adding any omissions.
- Displays: There will be a number of displays about the Shirton Family. Those participants who will be bringing displays and pictures are asked to make sure they label their pictures clearly with their name and contact information.
- Signature Quilt Fabric: There will be strips of fabric available for participants to sign with fabric markers. Each person is asked to sign two strips of fabric so that we can make a signature quilt to auction off at the next Shirton family reunion.
- Family Group Sheets: Family group sheets will be available in order for participants to update their family information to ensure that we have accurate records about the family.
- Family Photos: There will be an area where families will be able to get their photograph taken so we can document their participation at the reunion. Families are asked to fill in a sheet listing the names of everyone in the photograph.
- Group Photograph: There will be one large group photograph with everyone attending the reunion. This photograph will be a great commemorative picture for future reunions.
- Unknown Photographs: There will be a display showing photographs where the individuals are unidentified. Hopefully someone at the reunion will be able to identify who are in these photographs.
- Picture Copies: There will be pictures of our ancestors scattered throughout the hall. If participants want copies of these pictures they can contact Doug Shirton at dshirton@hotmail.com.
- Food: There will be lots of food at the reunion. Participants are asked to bring finger food for about 5-10 people. Non-alcoholic drinks will be provided.
Shirton Family Reunion Received Sponsor Support
We have received sponsorship for our family reunion. We have received gift certificates from Maple Leaf Family Restaurant and Banquet Hall (214 West Street, Smithville, Ontario, L0R 2A0, (905) 957-6150) and Smithville Pizzeria and Restaurant (110 Brock Street, Smithville, Ontario, (905) 957-7778). We will now be able to give them away as door prizes. It is really nice to see the business community rally around this special occasion and recognize its importance by supporting our event.
Over 50 People to Attend Shirton Family Reunion
As of the end of August, over 50 people have confirmed their attendance to the Shirton Family Reunion taking place on Saturday, September 24, 2011 in Smithville, Ontario. "This is more than we hoped", said Doug Shirton, chair of the Shirton reunion organizing committee. "When we originally planned the reunion, we were hoping for around 30 people; especially since the Shirton family have not had a reunion in over 50 years. 50 people attending definitely exceeds my expectations".
If you are planning to attend and still have not RSVP, you can still do so by contacting Doug Shirton at dshirton@hotmail.com, (416) 554-2898, 15 James Speight Road, Markham, Ontario, L3P 3G3.
Mayor of West Lincoln Township to Attend Shirton Reunion
His Worship, Douglas Joyner, Mayor of the Township of West Lincoln will be attending the Shirton Family Reunion. Mayor Joyner will be bringing greetings on behalf of the Township of West Lincoln, and will present a certificate of congratulations.
"We are honoured that the Mayor will be joining us and recognizing the importance of this event", said Doug Shirton. "The Shirton Family has deep roots within this community and throughout Ontario, so it is wonderful that the Township will be formally recognizing our family's significance."
The Shirton Family Reunion will take place on Saturday, September 24 at the Royal Canadian Legion in Smithville. It will start at 2pm with the formal program and the Mayor's presentation at 3pm.